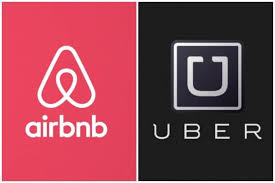 Airbnb owns no real estate…..Uber owns no vehicles.
Ten years ago I bet you had never heard of Airbnb or Uber, in fact even a few years ago these companies weren't household names. Today they are getting bigger and bigger in the economic world of the "sharing economy".
Airbnb and Uber are US tech start-ups that chose their industry  – Airbnb (hospitality) and Uber  (transport) these startup disruptors are today worth $30B  and $68B respectively. 
These industries have been shaken up to the detriment of the existing incumbents and they are not going away. They've upset a lot of people along the way, leaving other competitors fighting to remain profitable and regulators playing catch up.
So why are they thriving?
People now see a clear benefit in using financial technology services over outdated old world businesses, the last 5 years has seen the economic landscape reshaped to the point of no return. 
WTF is happening?
What's happening is a massive economic shift on a global scale, it's a reinvention of how we transact and how much we pay for a service.
The invention of an internet based scalable service on an inefficient industry has been made possible by financial technology or fintech. It's the start of what I call the smarter economy.
This global change is transforming not just transport and hospitality but also property and finance, the banks are in the fintech cross hairs scrambling to remain profitable and relevant.
Our Banking System – Get Set for Disruption
In the smarter economy, banks become less relevant as consumers (both businesses and individuals) realise the Uber effect -smarter and cheaper ways to borrow, invest, research and transact.
Imagine a massive 150-year-old organisation with hundreds of shopfront locations, thousands of staff, old and clunky internal processes and life long employees on huge salaries. Sound expensive? It is expensive….this is your typical incumbent bricks and mortar bank still making huge year on year profits.
Users of banks are becoming smarter and empowered through technology. Do we need to visit a bank to transact? No. Do people want a better deal from their bank? Yes. Do people have loyalty to their bank? No.
So where will we be in 10 or 20 years in the smarter sharing economy? I'm not 100% sure but I can guarantee many of the traditional business models will no longer be around and although many new businesses will fail you can bet the likes of AirBnB and Uber will be thriving.

Crowd Property Capital is a non-bank lender that effectively cuts out the middle-men in business loan transactions. Put simply an investor (business or individual) who has funds to loan can provide a borrower with these funds on agreed terms. The lender receives a rate between 8-12% pa and the borrower gets access to funds faster.  Investments are available on a wholesale basis to local and international sophisticated investors with a minimum investment of $500,000 AUD. For more information visit www.crowdpropertycapital.com.au
https://crowdpropertycapital.com.au/wp-content/uploads/2017/01/AirBnb2.png
183
275
CPC admin
https://crowdpropertycapital.com.au/wp-content/uploads/2020/05/CPC-logo_Strap.png
CPC admin
2017-01-26 02:12:24
2019-08-06 01:58:19
WTF is Happening? How Airbnb and Uber are Reinventing Economics